Alexis BEDECARRATS,
Former Fyssen 2015
Alexis Bédécarrats, Shanping Chen, Kaycey Pearce, Diancai Cai and David L. Glanzman (2018)RNA from Trained Aplysia Can Induce an Epigenetic Engram for Long-Term Sensitization in Untrained Aplysia. eNeuro 14 May 2018, ENEURO.0038-18.2018; DOI: https://doi.org/10.1523/ENEURO.0038-18.2018
The precise nature of the engram, the physical substrate of memory, remains uncertain. Here, it is reported that RNA extracted from the central nervous system of Aplysia given long-term sensitization (LTS) training induced sensitization when injected into untrained animals; furthermore, the RNA-induced sensitization, like training-induced sensitization, required DNA methylation. In cellular experiments, treatment with RNA extracted from trained animals was found to increase excitability in sensory neurons, but not in motor neurons, dissociated from naïve animals. Thus, the behavioral, and a subset of the cellular, modifications characteristic of a form of nonassociative long-term memory (LTM) in Aplysia can be transferred by RNA. These results indicate that RNA is sufficient to generate an engram for LTS in Aplysia and are consistent with the hypothesis that RNA-induced epigenetic changes underlie memory storage in Aplysia.
Photo : Neurones d'Aplysie en culture cellulaire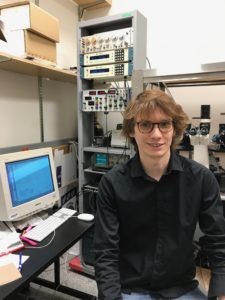 Durant ma thèse sous la direction de Romuald Nargeot à l'Université de Bordeaux j'ai eu l'opportunité d'étudier les bases neuronales et synaptiques responsables de la genèse et de l'adaptation du comportement alimentaire chez le mollusque Aplysie. Ce travail a notamment permis d'établir comment un apprentissage de type opérant conduit à la transition entre un comportement exploratoire et un comportement fréquent et rythmique devenu compulsif.
En 2016, grâce à un financement de la Fyssen, j'ai pu intégrer le laboratoire de David Glanzman à UCLA travaillant également sur l'Aplysie. Mon projet visait à analyser le rôle des processus épigénétiques dans un type d'apprentissage emblématique en neuroscience : la sensibilisation à long-terme du réflexe de retrait du siphon et de la branchie. Les données obtenues au cours de ce postdoc fournissent des données importantes et ouvrent de nouvelles directions dans la recherche sur la mémoire et l'apprentissage [1].
Depuis 2018 j'effectue un second postdoc à UCLA dans le laboratoire d'Istvan Mody ou j'analyse les pathologies de la transmission synaptique chez les mammifères.
Publications récentes
BBC – Memory transplant' achieved in snails
Scientific American (Stat News article) – Memory Transferred between Snails, Challenging Standard Theory of How the Brain Remembers