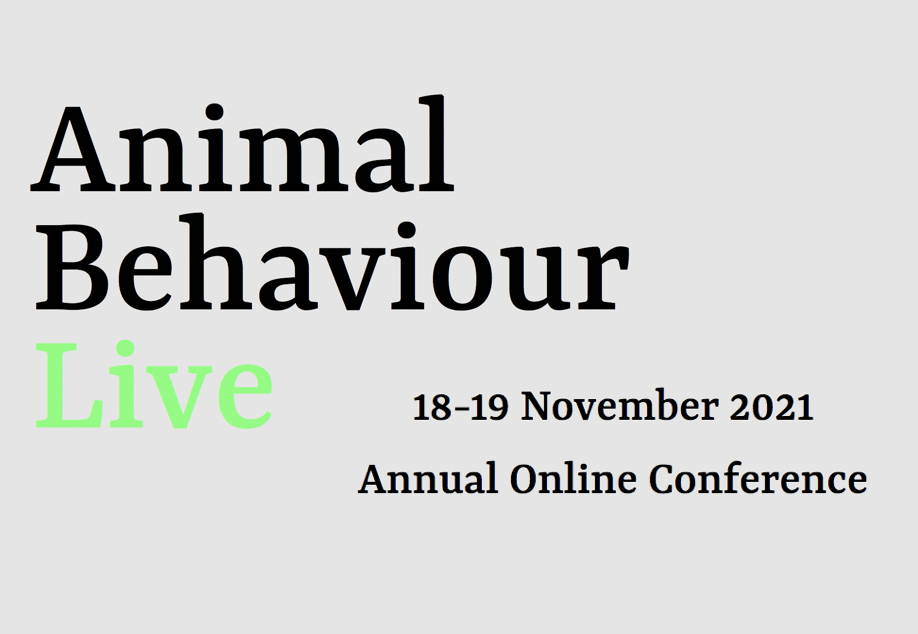 Natacha Rossi
Former Fyssen 2019
Alexis Buatois
Former Fyssen 2018
The Animal Behaviour Live: Annual Online Conference 2021 which will take place on the 18th and 19th of November 2021. Like the previous version, this conference will be fully broadcasted online on YouTube and is aimed at inclusively bringing together researchers in animal behaviour from all over the world.
Like last year, the event will be completely FREE of charge and open to everyone.
In 2020, ABL:AOC registered 1417 participants, which led to 10115 views on YouTube and 1500 hours of viewing. Of these participants, 66% were women and 65% were early career researchers. Participants came from 52 countries and were represented on all continents. The selected talks represented all continents and 71% of them were given by female researchers. To view last year's event, click here.
Based on the previous edition, they have implemented some changes to make ABL:AOC 2021 even more accessible. The main one is a new presentation session every day for a better coverage of global time zones. Thus, the congress will be divided in 6 sessions (3 sessions per day):
• Session 1: 7h-10h UTC+0
• Session 2: 14h-17h UTC+0
• Session 3: 21h-24h UTC+0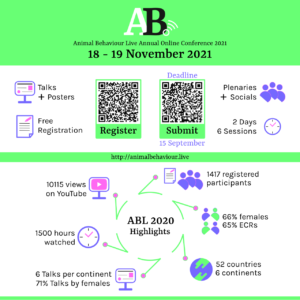 Over these different sessions, you will be able to attend 4 plenaries and 24 short presentations, as well as other little surprises. In parallel, it will also be possible to watch a series of posters during the whole congress.
• The short presentations will be for 20 min (15 min talk + 5 min questions). This year, two options will be offered to the speaker: 1) Pre-record the 15 min presentation (and we will stream the video); 2) Present live. In both cases, the 5 minutes of questions will be held live to allow for interactions with the attendees.
• The posters will keep the same format as last year, namely a pre-recorded 5 min presentation. You can find a lot of different examples by clicking here
For more information, please visit the  AB website.
Registration is now open: click here
Submission is now open (deadline September 15th): submit your abstract for a short presentation or a poster by clicking here